Dear Larry and all the band members,
Thank you so much for making our wedding a huge success and for playing "everything" and doing "everything" we asked for! The Jimi Hendrix and Pink Floyd were just some of the tunes that the guests are still talking about. If anyone has any doubts about your professionalism and quality, please feel free to refer them to us. You guys were the Greatest! Many thanks again.
Love, Angela and Andrew Goldstein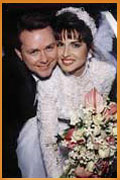 Dear Larry,
We just got the video from Murray's Bar Mitzvah. Wow! What a great time everyone had. I want to let you know that your whole act from your band, the dancers and the DJ was great.
Thanks, Norman Massrey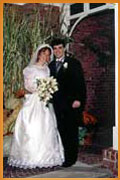 Dear Larry,
We wanted to say a heartfelt "thank you" for the band's superb performance on our wedding day. Each musician was excellent, and we cannot even begin to tell you how many compliments we received! We would not hesitate to recommend your service to family and friends.
Best wishes always, Diane and Chris O'Brien
Dear Larry,
We had the time of our lives on our wedding day! Your music made our reception a success; all our guests were out on the dance floor having a spectacular time. Thank you for your performance, as well as for playing so many songs we had chosen beforehand.
Fondly, Andrea and Louis Canise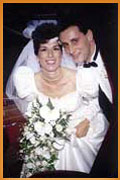 Dear Larry,
You and your band were absolutely fantastic! The party wouldn't be the same without you. I would also like to book you in advance for my wedding. Thanks so much.
With lots of thanks, Phillip Lax (age 13).
Dear Larry,
Although you dealt more directly with my daughter, Karen (the bride), I just felt that I had to write you this note. The "rave reviews" we received about your band at the wedding and after were continual and very glowing. Your musicians each showed their our individual talents, about which so many guests took note and commented. Judging from the crowd on the dance floor alone, you certainly "struck a note" that was contagious to all. Karen and Howie surely picked a winner and you will long be remember and recommended by our family. Thanks again
Fondly, Ellen and Barry Saul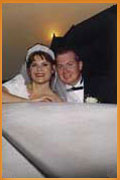 Dear Larry,
Thanks so much for playing at our wedding. You guys were great and really managed to keep everybody happy. The rendition of "Es Mi Nina Bonita" by Lou brought alot of tears to alot of friends and family. It was very emotional.
Thanks again, Lorena and Ken
Dear Larry,
Thank you so much for doing such a magnificent job on our wedding day. You and your musicians were unbelievable. Everyone had so much fun and all my guests were very impressed by your band. We will highly recommend your band to anyone that needs fine musicians like you.
Love, Sandra and Eric Goldman
Dear Larry,
Art and I want to thank you for your excellent band. You helped make our daughter Susan's reception an outstanding affair. Everyone was impressed with your music. Thank you especially for your help with Sue's song to her husband. That meant so much to both of them. If you ever need it, you have our highest recommendation.
Sincerely, Joan and Art Kearney
Dear Larry and band,
Kevin and I wanted to thank you for making our wedding so special. Your band was wonderful, and we received many compliments from the guests. Everything went off beautifully, even thought the snowstorm of Friday, January 11 tried to get in the way.
Thank you again, Karen and Kevin Tomlinson